The dsPicPLC is an electronic development and prototyping board based on Microchip dsPIC™ micro controller. The device is ready for interfacing a wide range of standard sensors and actuators and can also easily be extended with the EMG150-KD keyboard and display interface. Firmware updates and debugging can be done either using a suitable RS422 boot loader or ICD2/3 compatible debuggers resp. programmers. Depending on used connectors three variants of cases are available.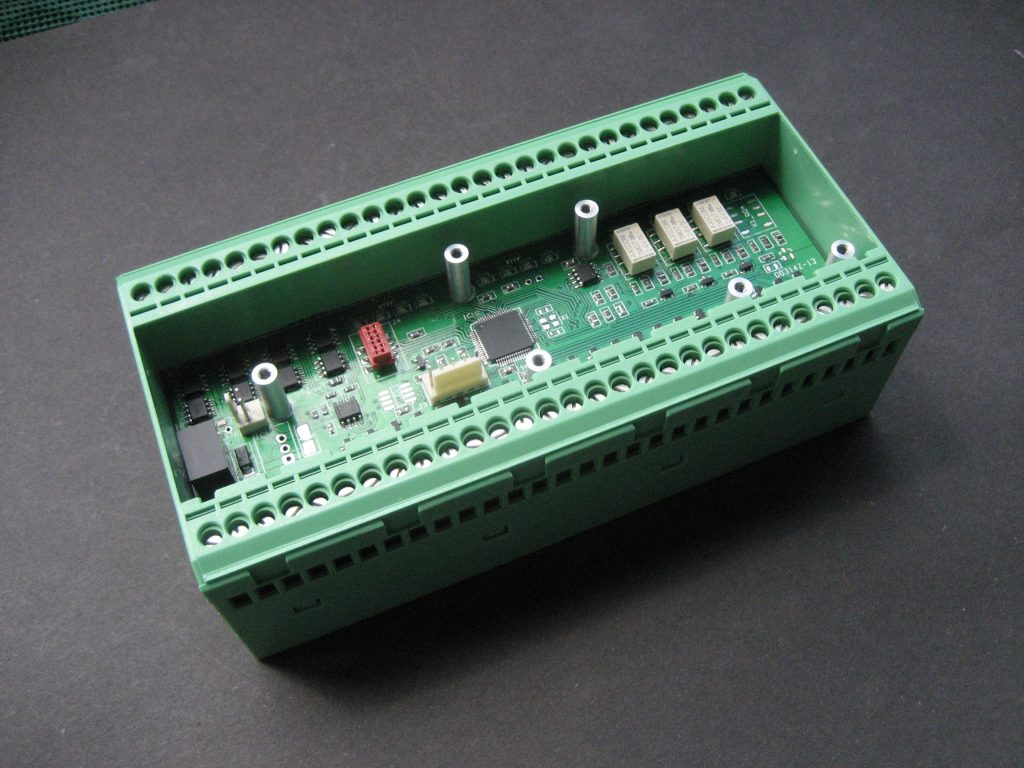 Functionality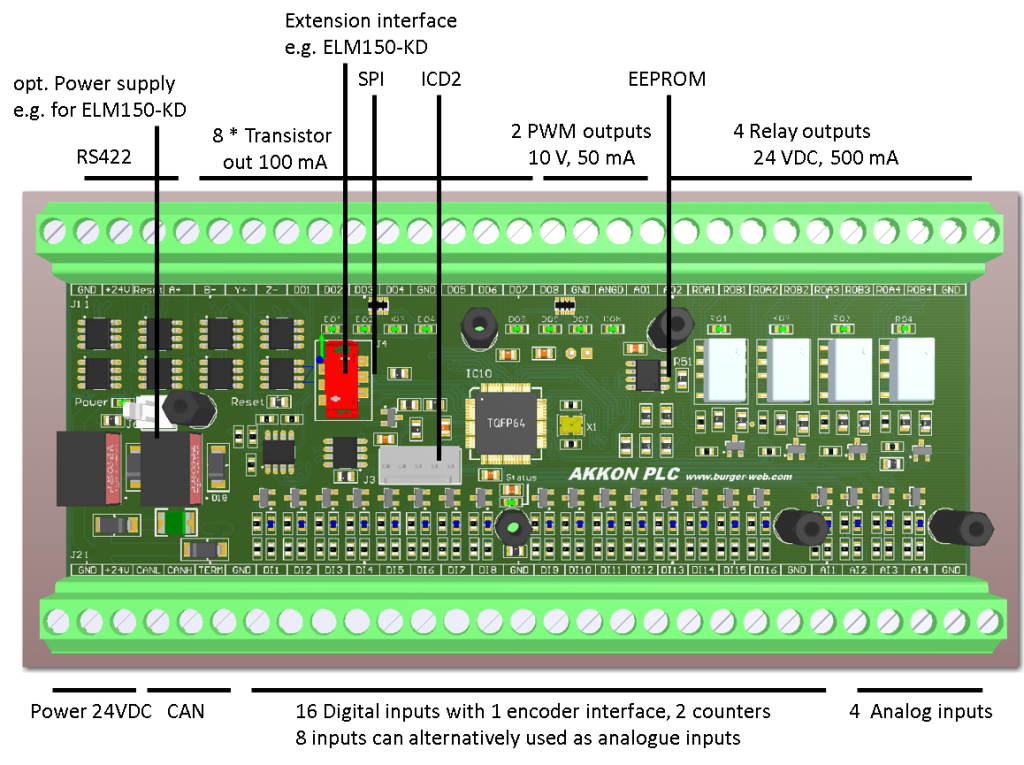 1.1  Analog and digital Inputs
2 counter inputs
1 Encoder interface (A, B, Index, with digital output UpDown)
13 general purpose digital inputs, some work also as interrupt input
4 analog inputs (10 bit resolution); these inputs can alternatively be assembled for 4-20 mA sensors
All inputs are protected against over- and "under"-voltage. Encoder and analogue inputs can alternatively be used as digital inputs.
1.2  Outputs
8 digital transistor outputs (200 mA, 24 VDC per output), and short circuit protection
4 relays outputs driving 100 mA, 30 VDC
2 PWM outputs driving 100 mA, 10 VDC
All digital inputs and outputs equipped with status LED
1.3  Interfaces
CAN
RS422
SPI
ICD2 programming interface
1.4  Optional
external EEPROM for user data
external Real Time Clock
1.5  Power supply
input supply 24 VDC, 2 A, operating voltage alternatively 3.3 V or 5.0 V (default). Minimum input voltage 7 VDC
Remark: If relays are assembled, necessary input voltage also depends on the switching voltage of the relays
1.6  General
dsPIC30F5015 micro controller
electronic housing for DIN rail mounting available
optional power supply on board for interfacing other devices that could be hooked on the AKKON PLC board
Weight without electronic housing: 70 g
Weight including electronic housing and AKKON Key Display: 300 g
Mounting holes for display or / and keyboard or others on board
1.7  Others
Mounting holes for display-keyboard-module
1.8  Optional assembling (by the user)
EEproms with 1 – 64 kB can be assembled
Some digital inputs can be used as analog inputs